| | | |
| --- | --- | --- |
| | By email: tarot consultations in written form | |
If you prefer, it's possible to do the tarot consultation by email instead of by phone, the price is the same (€50).
Normally, for doing the tarot readings by email I will ask you the following details:
There is no problem in looking at various topics within the same consultation, but it is important to
tell everything you want to look at before
I do the tarot readings themselves, because afterwards there is no problem in asking for all clarifications or questions that you need, but I answer them based on the cards and questions I did, not making new tarot readings.
Typically, I will do the tarot readings one or two days after receiving the payment (Monday to Friday), and before the consultation takes place I will send an email explaining everything I will look at with the questions I will ask, so you can add anything you judge necessary before the consultation takes place.
It is also a good idea to write me before making the payment, so I can tell you when I could do your consultation and if I think I could really be of help or not.
Of course you are welcome to send some photos of the people related to the consultation, it is always nice for me to see my clients' faces and it also helps me to concentrate better, although I know from experience that most people feel more comfortable without sending pictures and I'm used to working without them.
Once I do the tarot consultation itself I will write down all the cards together with its related questions and interpret the results on the way to decide if it's needed to ask additional questions, here you can see an example of one of these records (personal data are hidden to preserve the privacy of the consultant):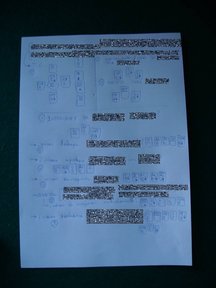 It is possible, at no additional cost, to send you by email the pictures of the record of the consultation and those of each corresponding tarot reading, but if you do not ask for it beforehand I will not do it, as most people are interested in what I see in the cards, not the specific cards that came out.
These are the images of the tarot readings from the previous file::
In the case of this example, the response email had more than 200 lines and 2100 words; the extension depends on each particular consultation, sometimes you need to write more than others, the important thing for me is to express what I see in the cards, I don't skimp explanations or add unnecessary things to make the reply bigger... and of course I write all consultation reply emails myself from the first word to the last, I don't use any kind of templates.
For any questions you have about my tarot readings by email, feel free to write me or call me ((+351) 922 293 347).