In-person: consultations in Azores (Portugal)
Along the years I have attended consultations in many different places, first in mi house in Asturias (2004-2008), later in the boat where I lived for 10 years, and in between in my apartments of Flores island and Ponta Delgada, also, for a few months, in a Chinese Traditional Medicine clinic.
Actually (2023) I do all my consultations from my house in Santa María island (Portugal), although it's a somewhat remote place, is still possible to attend you here in person if we arrange a proper time for both of us, this is my usual working place: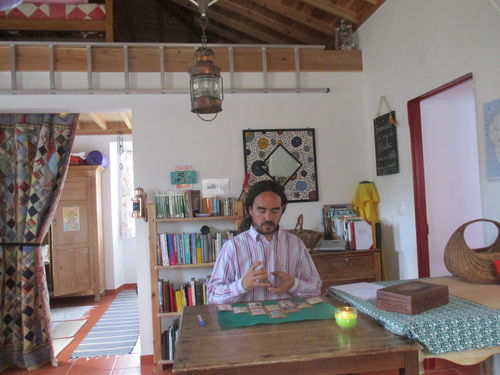 I use to adapt the consultation to the problem or situation each person tells me about, although most of the time I follow this order:
With the date, time and place of birth I look at the most important aspects of the chinese natal chart so I can get a general idea of the person's astrological trends to understand his/her problems better.
Afterwards, I like to begin doing a general tarot reading to get a global outlook of the problem we are dealing with.
Next, I use to do several cards readings to respond in more detail to any questions you may have, there isn't a limit to it, as long as the questions make sense and they can be useful to you.
It's also possible to consult the I-Ching in the traditional way, counting sticks for 15 to 20 minutes, but as this is quite time consuming most people prefer to stick with the cards.
My intention is that the consultation be helpful so the person who does it can understand his/her reality in a more complete and deep way, helping him/her to make the right decisions and/or adopting the most optimal short/long term strategies, for that reason there is no problem in adapting myself to whatever each person wants.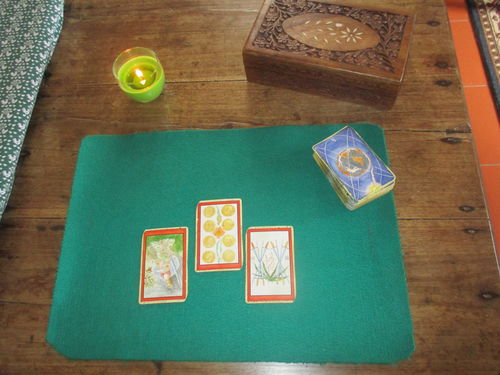 The price of the consultation is 50 €, and typically lasts around one hour, but I'm flexible to stay longer if it's needed and my schedule allows it.
In case you have any doubt or question about the consultations, just write me or call me directly to this number: (+34) 969 59 1212.