Consultations: Tarot consultations with Nacho
It was 18 years ago, in 2004, that I decided to quit my job as Unix system administrator to begin doing tarot consultations, a change that many people around me thought to be crazy, but for me it made all the sense because it meant doing something to try to help others rather than help to control them in an increasingly oppressive way.
The idea came to me because since I was 15 years old had been using tarot cards to try to guide me in confusing and difficult moments of my life, and they always proved to be very helpful, so I was well aware that its usefulness had nothing to do with the negative image often portrayed in much of the media.
And so my first step was to create this web site (originally just in Spanish), to present my views on what the tarot cards are and how they can be of help, and then offer the possibility of doing tarot consultations either by phone or by email.
This is the place where I do my consultations right now (2022), a nice traditional house in a small azorian town called Malbusca: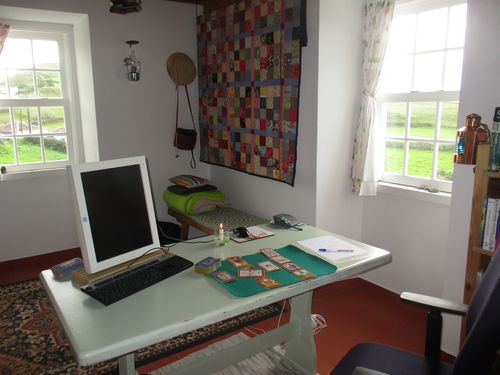 Since the beginning I had my mind clear about not charging by time but just a fixed amount for the whole service, and also that I wouldn't attend short consultations where inevitably you can't get to the root of the problems, I have always thought that to get the most out of tarot cards one has to take his/her time and concentrate on it without looking to a clock, that's also another reason why I do all my consultations with previous appointment, typically the next working day after receiving the payment.
This together with being very honest with what I saw in the cards, made my success somewhat limited, because the truth of this business is that many people calls you impulsively in a difficult time hoping to hear nice things to calm them down... but if you tell them first to pay, then to wait a day or two, and afterwards what you see in the cards is not a happy story, you are not giving them what they look for.
But I understand that to make things the right way it has to be like that, because tarot cards are meant for improving your knowledge of present and future, to better understand yourself and your problems, that's what can be of help, even if that present and future implies that the solution to your problems will not happen miraculously tomorrow.
And typically, when someone is overwhelmed by a problem, usually is because it is a serious and very real problem, and so it is quite likely that you don't see a dramatic change for the best happening tomorrow, but rather that given the details of the problem and its trends, it would be useful to try certain strategies, avoid some attitudes, take the initiative or just wait and see... the fact is that we build our future to a certain degree with everything we do in our present.
But keeping aside my way of understanding tarot cards and fortune telling, the fact is that years have passed and I continue doing my tarot readings, with few but very satisfied clients; as time passed I changed my home from a nice apartment to a sailing boat, carrying my office with me, which includes not just the tarot cards but also several folders with all the records of past consultations: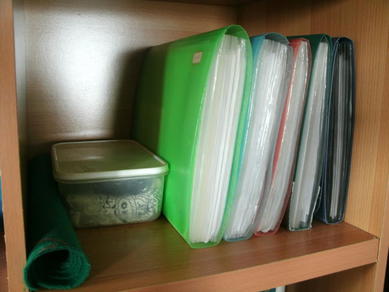 The latter is an important detail, because typically people will call/write me months or years after doing a consultation and I will not remember what we talked about, but most of the times with a quick look to the questions we made and the cards that were displayed, I can remember what we talk or at least have an idea of how that issue was seen on the cards in the past.
Also these files are a very good thing to have when somebody tells me what happened with the issues we looked at with the cards in the past, so I can keep a kind of tracking to see how reliable are the things seen with the cards about the future.
If you are interested in a consultation with me, just keep in mind that my English is far from perfect, specially I would like to improve my pronunciation and expand my vocabulary, but never find time for it.
Anyway, you can write me or call me before making the payment to judge my language skills by yourself, and that way we can also talk beforehand about the details of your consultation and/or what would it be about, so I can tell you before making the payment if I think it could really be helpful or not.
Usually we would find a day and time where both of us can be relaxed and able to concentrate properly in the problems or situations that we want to look at.