2015 Predictions: year of the Wood Goat
To get an idea about how you, or somebody else, could fare during the Wood Goat Year (2015), you need to consider the date and time of birth, to see how the astrological influences of the person correspond to those of the year, at least month by month, of course.
This imply having to do a lot of calculations to find the prediction for 2015 according to the Chinese horoscope, and inevitably you always get more of a subtle trend than a clear and strong answer... Astrology is like this, at least the way I understand it.
So to see your 2015 prediction according to the Chinese horoscope, just fill the form below:
The idea is to interpret this annual forecast on the whole, considering if the line of luck rises or falls, and whether it's high or low, the icons just give more detail about the situations that can be expected in those months of 2015, if there are no icons it means that according to the Chinese horoscope forecast for 2015 it will be a rather quiet and manageable time, and really the only time when you need to be extra careful is when luck is under 35% and at the same time there are icons like the storm or danger ones.
Anyway, let me explain shortly what is each thing in the graph of the annual prediction:
* Lucky Line: express the person's harmony with the signs and energies that rule each month of 2015, the higher it is, the more likely that things are easy and happy, but if the line is low and red the tendency is that things will be somewhat difficult or one will have to struggle to adapt to difficult situations which are not easy to understand or to deal with.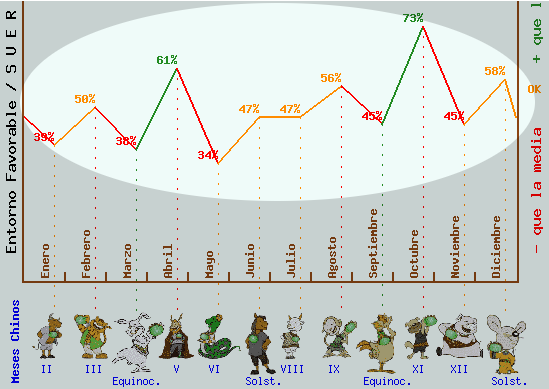 But a low and red line of luck does not necessarily imply bad things will happen, just stuff "difficult to deal with, but is often in difficult times where the most important things are accomplished (when you must fight and deal with problems and, in the long term, you win), then it would be a mistake to interpret the moments of "scarce luck" as times where it is best not to do or try anything.
Likewise, when luck is high, we must be careful not to be too much complacent, things are not going to get accomplished just thanks to the Chinese horoscope, you will need to work things out by yourself.
* Chinese Months: each monthly prediction was made following the Chinese horoscope months system, this means that the result for a chinese month gives a glimpse of the whole month, then within each month there may be favorable and unfavorable sets of days, to see the prediction on a day to day basis just use the daily prediction form.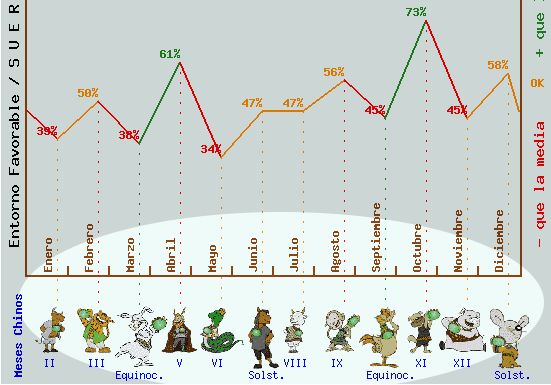 Perhaps it is easier to see it in the graph, the dotted lines connect the center point of each Chinese month with the expected luck for that Chinese month, these chinese months normally go from day 5-9 of each month to a similar day next month, with the central point being around day 22th.
* Icons: these can appear associated with each month giving details of the prediction for this time frame, they are calculated for the midpoint of each Chinese month, and its influence may extend a few days or weeks.
An important detail is that the size of the icons implies that the influence is more or less intense in relation to the prediction for that time.
The meaning of the icons is as follows:
| | |
| --- | --- |
| | Important personal meetings and negotiations. |
| | Times where it's better not to rely in the past but just discard what is harmful or not useful. |
| | Conflicts and tense situations, this is when many ugly situations happen |
| | Things move and change fast, if for good or bad, it depends on the luck line. |
| | Times when it's more likely to find open doors at all levels, good moment to try new things. |
| | This means danger, but also times where you can win valuable things thanks to be brave and do what you really have to do, just don't expect an easy time. |
In fact, it's always a good idea to look the day to day forecast to see everything in detail, sometimes in the graph of the prediction for 2015 a month is seen as a bad one, but when you look closely at it, the bad days are just a few ones, and sometimes what seems like a good month can be surrounded by small difficult times.
As for the reliability of this predictions, just have a look at the ones for the past years and see for yourself if they did make sense in your past, if they do they should also do in the future (the algorithm behind is the same), but anyway this is something made as a personal hobby, with best wishes but without any warranty at all.